There are things in the NFL that are obvious, but people easily forget about them until they witness them again. For instance, the Jags are still pretty terrible and they've started tackling their own players: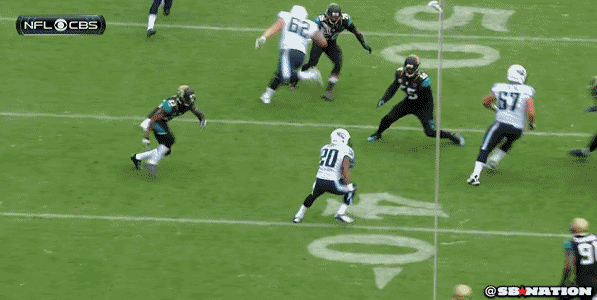 Another obvious thing is that quarterbacks are the most important players on their teams. When you have a good QB, you can often take it for granted. This week, we saw Joe Flacco remind everyone that he's good by tossing 5 TDs in about 18 minutes of play! We also saw Aaron Rodgers put his team in position to come from behind and win by pulling the old Marino fake-spike trick: 
Oh, and Tony Romo and his team beat the Seahawks this week by converting plays like this one, where a perfectly placed ball met up with Terrance Williams' twinkle toes on the sideline. 
Yes, quarterbacks are important! Cam Newton is easily the best player on his team, so you can understand why this Bengals defense man thought he should try to give Cam's ankle an extra twist on this play: 
Dirty stuff. Speaking of the Bengals/Panthers, they dueled into OT before the Bengals got lined up for the game winning FG with time winding down. Then… well…
Yep, a tie in the NFL. Those are allowed by rule. And, because I'm a purist, they're also allowed in the HFFL. You can see where this is heading, right? Read on…
In the LOC, diddY is looking to rebound from his first defeat and his defeater is trying to keep on rolling! Scores: 
So Team Python continues his winning ways! Brian's team defeated the frustrated Muffins and got his 5th win in a row! Still looking very strong despite the HFFLUBTotW award last week! Meanwhile the Muffins continue to miss out on wins. 
And diddY's numbers have come down, but he didn't need to crack 100 this week to beat Tom's squad. Tragically Malicious dropped his share of the league-best record when he med up with The Country of Chad. Chad and Mark now both sit at 4-2. The Maulers and the Turtles slapped their way through the weekend and the Turtles came out on top with a 66-62 victory. A similar defensive-minded contest took place between the Mongrels and the Nerd Herd, but it was Mongrels squeaking by with an 8 point win. And finally, the Lakehouse Vikes got their 2nd win of the year by beating the Goldfinches. Starting the week with 28 points from TY Hilton sure improves your chances!
Current LOC Standings:
Things are quickly becoming very messy on the PL leaderboard. The teams in this league insist on finding ways to not win or lose! Yes, we had another tie this week. Scores:
It sure looked like The Dominators were the team that would finally hand Phonics their first actual defeat of the year. They came out of the gate fast with Andrew Luck's Thursday numbers, but stalled out Sunday afternoon when Harvin put up a goose egg. They were leading by 1 point going into Sunday night football and Phonics had Maclin yet to go. It didn't look good for Spencer's squad. Then…Maclin put up 1 point for the game and the tie was born! Hold for stat corrections. It's Chris' second tie of the year and the 3rd in the PL this year. Bizarre. Elsewhere, Naana was riding high, but deBrewliner was ready and put up 128 to win. The Cieras continued their streak, beating Vandalay for their 4th straight win. The Eh Team was trailing by 2 going into Monday night with their kicker left, but Eric got his first win of the year in taking down the Limbs. It should be noted that the Limbs and deBrewliner ended up tying last week after a Wednesday stat correction was recorded! Oh, Premier League, you crazy. Other winners this week: WannaBe over the formerly-hot Randy Ableman and Orcwardness over the still struggling Herbal Tonic. 
Current PL Standings: 
You'll recall from last week that Nudibranch was the last truly undefeated team and he was facing his toughest test yet: InstaGraham. Who would prevail? Scores:
That's right! The king has fallen! In a classic matchup, InstaGraham managed to knock off Nudibranch and take 1st place in the standings! Hyatt's team stuffed the stat sheet this week, in spite of Jimmy Graham being on a bye and in spite of actually using the Tampa Bay defense! Could this have been an EL Super Bowl preview?? Elsewhere we say Ihenachos rise up and defeat Russ handily. We also saw Jake's team grab their 2nd win of the season by 10 over BigHassler. Butterslide got back to .500 by beating Sesquipetantic by 11. The Gwardians, sill sad that Gwar was not chosen to play the Super Bowl Halftime show this year, eased by H-Ike's Daddy by 7 to keep a share of the league lead. And Chobani crushed whatsyoname and moved into the 6 position in the standings. 
Current EL Standings:
Coming into this week, there was only one remaining undefeated team in the HFFL: Nudibranch. And when he clashed with the #2 team in the EL, you knew it was going to be good. In the end, it was Hyatt Harper's InstaGraham squad that won the game, the top spot in the EL and the HFFLUBTotW award! Hyatt started his draft off with Graham and Demaryius in rounds 1 and 2 and those two players have propelled him to a 5-1 start and a 5 game winning streak! Well done, Hyatt! 
#nofilter 
​​
Again, only 2 teams are on byes this week: Philadelphia and Tampa Bay. 
As of this weekend, we're about 50 days away from the start of the playoffs. But we're only 30 days away from the trade deadline. Keep those dates in mind as you look at your roster over the next couple of weeks!
Until Next Week,
Commish Peter