Some very expected and very unexpected things happened this week in the NFL. First, the expected. Peyton Manning broke Favre's record for career TD passes, something that people may have seen coming as far back as 1997.
Peyton, per usual, took it in stride. But he did want to keep that football for his personal collection. Unfortunately, catching passes isn't his gifting and his teammates made it hard for him.
But seriously, Peyton is probably the greatest QB of all time. NBC spent a lot of Sunday Night gushing over Manning's career and then put up this comparison shot of Peyton's record setting arm and Colin Kaepernick's arm. 510 TD passes with that bicep?! 
Now the unexpected. The Seahawks started the weekend by trading perennial headache Percy Harvin to the Jets! Woah! Then the moved on to face the Ram in what most people thought would be an easy win. Well, the Rams took a "devil may care" attitude into the game and got creative in their special teams. First, they executed one of the most amazing punt return TDs in recent memory. They swung their entire wedge squad to right and took the Seahawks coverage team with them. The ball actually was sailing left and when their jammer caught it he had nothing but open space in front of him. Touchdown. Unreal.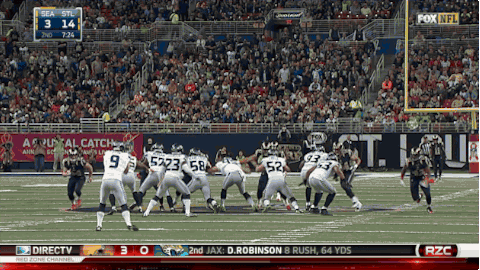 Then later, up by only 2 with time winding down, the Rams pulled off an extremely gutsy fake punt rather than give Russell Wilson the ball with time on the clock. 
The Rams won the game and the 'Hawks are reeling. Harvin, meanwhile, will effectively get 3 bye weeks! The one he had as a Seahawk, this week (because the Jets played Thursday before acquiring him) and then the Jets regular bye week later. Weird. 
Now, let's get to the real stories!
The top shelf LOC teams are in a state of flux while an early contender continues his precipitous fall. Here are your scores: 
Our top two teams in the LOC have been _diddY and Team Python, but both managed to lose this week! For Python it came at the paws of the Mongrels, who really put some hurt on the top dog, winning by 21! With Ridley and Calvin Johnson down with injuries, the Mongrels trotted out their backups: Vereen and Tate, both of whom had big games! For diddY, it was a bit closer, but the Snapping Turtles won their second in a row, beating Jim by 9! Taking advantage of these results, Tragically Malicious crushed the Lakehouse Vikes and moved into a 3-way tie for the best record in the LOC. When Mark's Packers perform, he's a tough beat. The Nerd Herd got back in business, beating Chad this week and the Finches righted the ship a bit and put down the Maulers. And then there's the Muffins. After opening the season with a narrow defeat, Dev's team won two games with big scores and then lost by 3 to Malicious. He was feeling the potential in his lineup. Unfortunately, things have continued to go down the tubes. This week, it was Tom's team that feasted on the Muffins. You know it's bad when your highly drafted Seattle defense scores -1 points. It's been a rough season for this team so far and they just want it to…
Current LOC Standings: 
Rank
Team
W-L-T
Pts For
Pts Agnst
Streak
Waiver Bdgt
Waiver
Moves
1
 _ diddY
5-2-0
713
641
L-1
$91
12
7
2
 Tragically Malicious
5-2-0
705
647
W-1
$35
11
13
3
 Team Python
5-2-0
701
605
L-1
$47
10
6
4
 MN Mongrels
4-3-0
670
619
W-2
$11
9
25
5
 The Country of Chad
4-3-0
645
601
L-1
$50
8
10
6
 Hiawatha Goldfinches
4-3-0
522
514
W-1
$12
7
24
7
 We are the champions



3-4-0
621
608
W-1
$67
6
22
8
 Nerd Herd
3-4-0
565
569
W-1
$95
5
5
9
 Snapping Turtles
3-4-0
492
560
W-2
$20
4
6
10
 The Kosher Muffins
2-5-0
662
653
L-4
$28
3
10
11
 Pittsburgh Maulers
2-5-0
533
576
L-4
$0
2
19
12
 Lakehouse Vikes
2-5-0
486
722
L-1
$95
1
5
With a number of ties already this year, the PL is the wacky uncle of the HFFL right now. We came close to another tie this week too! Scores:
Going into Monday night, the Limbs held a 7 point lead over WanneBe and were hoping the DeAndre Hopkins would have a quiet game to preserve the win. Hopkins was quiet until the 4th quarter, when he caught a long pass to put Kevin's team ahead. BUT WAIT! Hopkins fumbled and lost the ball! Huzzah for the Limbs. BUT WAIT! The yardage still stands and that put the two teams in a tie at 71 points! Then, as the Texans furiously tried to score under the 2 minute warning, Hopkins caught a final short pass to squeak out 1 more point and win the game for WannaBe. The Limbs are now praying for another miracle stat correction. 
Meanwhile, the Cieras are quietly rolling through the PL, winners of 5 in a row after beating Herbal Tonic this week! The Dominators had also been rolling, but got slammed hard this week by Randy Ableman, dropping him to 4th in the standings. Quantum Phonics has been bulletproof so far, but even he knew his team wasn't perfect. In the 3rd War of the Christophers, Thompson defeated Anderson and handed him his first loss. If you're keeping score at home, the WotC series now stands at Thompson: 1-1, Anderson: 1-1, Wachter: 1-1! The Eh Team bounceback is real as he defeated Nanna this week. And Orcwardness is still looking for answers after another defeat, this time at the hands of deBrewliner.  
Current PL Standings:
In the EL, Nudibranch is sliding and InstaGraham shakes off the HFFLUBTotW Curse for another win. Scores:
With no sign of slowing down due to a lack of Jimmy Graham, Hyatt's team crushed Chobani this week to improve to 6-1 on the year. Demaryius Thomas was this week's MVP and showed that Hyatt's team is about more than just #Jimmy. Joining him at 6-1 is Gwardians, who are thankful that their 81 point week came against whatsyoname. The rest of your roster can take the week off when you have the record-chasing Peyton Manning. It was a much-needed big win for BigHassler as he beat Butterslide by 22 points thanks to Russell Wilson's 36! Nudibranch, once the toast of the league, has now lost 2 in a row. This week, Russ got the better of Jon's team and jumped ahead of him in the standings too! Climbing into a playoff slot was Ihenachos, who slapped Jake's Quality Team by 23. And currently inhabiting the EL basement is H-Ike's Daddy, sitting at 1-6 after losing to Sesquipetantic in part because of an ill-timed Eagles bye week. Ouch. 
Current EL Standings: 

​
Chris Wachter and The Cutlass Cieras! After starting the year 0-2, the Cieras have gone 5-0 and climbed to the top of the Premier League! Anchored by Matt Forte, Colin Kaepernick and the surprising Eagles defense, the Cieras have tiptoed through the mess that is the PL leaderboard in the last month. It also helps that he's remained relatively injury-free. They will face a very tough test next week, however, when they play the deBrewliners! 
The Giants and 49ers could both use bye weeks right about now and they will get their wish! 
The Broncos are working on a very short week after playing Sunday night! They will face a Chargers team on Thursday night that's looking to rebound from a tough loss this past week! There should be lots of points on the board after this Thursday night game!
I also want to take a moment to talk about the Survival Picks side game that some of us are involved with. Each week you must pick one team to win. If you're right, you pick again next week, but you can't pick the same team twice. If you're wrong, you're out. A whopping EIGHT guys were eliminated in week 1!! Four guys soldiered all the way to week 7: Tyler, Russ, Jachin Rupe and Chris Anderson. Then Seattle lost to the Rams, killing Tyler and Russ. Jachin had picked Cleveland, going against the hapless Jags. But the Jags managed to grab their first win of the year and also killed Jachin. Chris was the only man left and he had picked Baltimore to beat Atlanta. And verily it came to pass that the Falcons continued to be terrible and lost to the Ravens! Your 2014 Survival Pick Winner is Christopher Anderson!!
​ 
Okay, now let's race to pick up all these flash-in-the-pan running backs off the waiver wire! 
Until Next Week,
Commish Peter