The night games are always supposed to be the biggest and best matchups. Late in the season the networks are even allowed to "flex" some games into the Sunday night spot if they are particularly good. Here in week 10, the league had decided that the big divisional matchup between the Packers and Bears would be pretty compelling. Mmmm…. not so much. The Packers crushed the will of the Bears early and often. I mean, they were so much faster that the Bears in this game that when the Bears lined up to punt, a Packers player was able to punt the ball before the punter!
It was pretty clear that the Bears had given up on the game by halftime, trailling 35-0. And Jay Cutler continues to be ripped for his sideline posture. 
The Seahawks easily won against the Giants this week at home behind FOUR Lynch TDs. Seattle is one of those teams that has an actual, live animal as it's mascot. This week, they allowed the hawk to visit fans in stands. Sometimes it was great.
Other times, it was an attack. 
San Francisco saved their season this week with an OT win over the Saints. But Jim Harbaugh even finds time during wins to throw stuff. 
​
Maybe that was your reaction this week as you watched your playoff spot slipping out of reach. But with some big performances on Sunday, there were plenty of points to be had! Who found them? Let's dive into the action. 
The LOC was buzzing leading up to the games this weekend about an amazing waiver bid. More on that in a second. Here are the scores:
In the game of the week, Tragically Malicious and Team Python went head to head for a bigger share of the supremacy of the league. It was a phenomenal matchup and in the end Mark emerged victorious with 155 points to Brian's 134. No team in the LOC could touch them this week. That Sunday night shellacking served Mark well and he needed those points to overcome Lynch's 40! What a fun shootout and a potential playoff preview! Now, Bob Distad had been holding fast on Adrian Peterson all year after paying big money for him in the auction draft. On November 2nd, he could hold no longer and cut him for Denver's Juwan Thompson. BUT WAIT! Adrian Peterson cut a plea deal and sought reinstatement the on November 4th! Who would bid their waiver dollars trying Peterson on their squad?!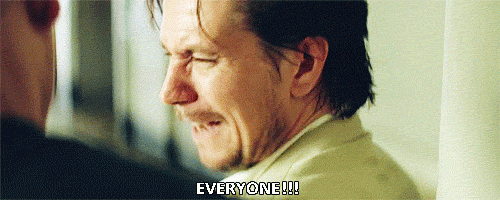 Seven out of the twelve teams took a shot at buying Peterson off the wire. The winning bid? A whopping $50!! From who?? Bob Distad and the Nerd Herd. Amazing. Bob really hopes Peterson plays now. He could have used some points this week as he lost to the Finches. Sieve manged to stop the bleeding and grab a win over the sliding Mongrels. The Country of Chad and the Snapping Turtles dueled all weekend before Chad stole a 1 point win! The Lakehouse Vikes also managed a rare win this week, beating the Champions. And _diddY kept on rolling, crushing the Muffins. 
Current LOC Standings: 
There was movement at the top of the PL rankings after this weekend when some high profile teams took tough losses. Scores: 
We begin with the Limbs vs Randy. Ableman had a sizable leading going into Monday night, but the Limbs had McCoy and Kelvin Benjamin plus a kicker to go. It looked bad when McCoy was (again) getting stuffed and Benjamin had 1 short catch at half. Then garbage time kicked in as the Eagles were dominating. Garbage time points count just the same, however, and Benjamin grabbed TWO garbage time TDs and the Limbs roared ahead and won in dramatic fashion. Top PL team Quantum Phonics got tripped up this week by Nanna Nancy, losing by 4, but still holds the top spot. The mighty Cieras also took a loss this week to WannaBe and slipped to the 3rd spot. Your new #2 is The Dominators, who withstood a big showing from Orcwardness. deBrewliner was definitely caught flat footed this week and allowed Vandalay to beat him with only 74 points. And The Eh Team began the season 0-5, but has since won 5 in a row to get to .500 and position himself in the final playoff spot! What a run by Eric's squad!
The EL spread the points out pretty evenly this week with lots of teams cracking 100. But only 6 teams managed to actually win. Scores: 
It was quite the tilt between Ihenachos and Gwardians, but Andy came out of it with 131 points and the victory, climbing the rankings to the 4 spot behind Lynch's giant game. InstaGraham was challenged this week by a big game from BigHassler, but he somehow edged out the win by 4 points and kept on rolling. Also putting up a big score was Butterslide, fending off a furious attack from whatsyoname for a 9 point shootout win. Joel's team looks to be gelling at just the right time. Nudibranch, the formerly top team, is still a force to be reckoned with. This week he got caught up in yet another shootout with Chobani and got the 12 point win. With all those big point shootouts, there had to be some defensive slugfests too. Sesquipetantic only scored 80, but that was enough to be Russ' 50. Adding insult to injury, H-Ike's Daddy outscored Russ this week too, even with getting a "too few men on the field" penalty. Of course, H-Ike's Daddy got beat too as Jake's Quality Team got handed just the right matchup for this 76 point week. 
Current EL Standings:

​
This week we highlight the hottest team in the LOC: Tragically Malicious. The other teams keep trying to steal his UnLucky Charms, but Mark has been on fire the last few weeks. Mark has won 4 in a row and, in those four weeks, has scored 106, 125, 105 and now 155. He's the highest scoring team in the LOC and in the HFFL universe (by 1 point over InstaGraham). The most upsetting thing about this is that Mark won the LOC last year. Could he be heading for a repeat? It's only been done once before, but this team looks malicious enough that he just might do it! 
The trading deadline is in 3 days! Package your deals now or not at all! There are only 3 weeks left in the regular season! 
Your Thursday night matchup this week is Buffalo at Miami. And your teams on byes this week are Dallas, New York Jets, Jacksonville and Baltimore. So get all those high performing Jaguars out of your lineups. 
So good luck this week! And remember, if you cut a player and then immediately regret it, you can always win them back in the waiver auction!