No preliminaries, no preamble. This weekend was all about this catch: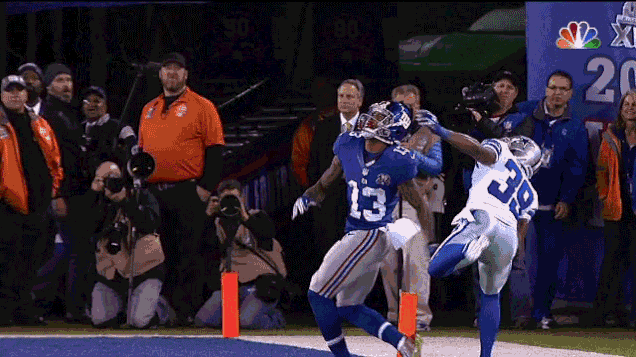 Maybe the greatest athletic catch in the history of the NFL. Closer inspection showed that he actually only got three fingers on the ball and was able to hold on. Pretty incredible and O'dell Beckham had a huge game over all too! Unfortunately, the Giants allowed Dez Bryant and Tony Romo to score a touchdown with less than 2 minutes to go and win the game. 
Another awesome play was in the game between the Dolphins and the Broncos. Miami knew that if they hoped to beat Peyton, they'd have to pull out all the stops. One of the stops they pulled was trying a surprise onside kick to the opposite side of the field. Watch the kicker's foot here: 
I don't think I've seen that before either! And what's more amazing: the 'Fins recovered the kick! Impressive! Of course, they still lost, but only by 3!
But with all those great plays, there had to be some bad ones too. Like when this referee got in the way of a "first down" sign:
Or maybe when Matt Ryan got away from a sack and then ran back to the rusher to give him another shot at it. 
The NFL marches on with the regular season, but the HFFL has but one week left before the playoffs! Let's recap the week. 
The LOC still belong to Malicious, but there are some surging teams that hope a late season push will mean something in the playoffs. Scores: 
Going into Monday night, Team Python was trailing the 'Finches 114-64, but with some heavy hitter left to go. In the end, it wasn't close. Python got 92 points on Monday night!!! What?!? Brian ended up with 156 on the week and a much-needed win. Also with a huge showing this week was We are the champions, who put up 131 to beat Nerd Herd. Tom's team is on the cusp of a playoff spot now, sitting in 7th place. He'll need a win and some help next week to get in, and he's playing…. you guessed it… Python. I can't wait. Clinching a playoff spot this week was _diddY, who managed a 4 point win over Chad. Malcious clinched last week and got a decent win this week over the Snapping Turtles. Mark will have the #1 seed in the playoffs and a first round bye. In a slapping match in the basement, Matt's Sieve beat Carl's Vikes. Currently in 4th place are the Mongrels after their big win over the Muffins. C'mon, Luke, have a heart. Dev has had a rough go of it this year. 
Current LOC Standings: 
With FOUR teams at 7-5 (plus Tom at 6-6), next week is going to be absolutely wild in the LOC!
Taking a cursory glance at this week in the PL, you'll notice there were NO TIES! Hurray! But those ties are still mucking up the standings, helping some and hurting others. Only two clinchers here too after week 12. Scores: 
Last week, the Eh Team questioned the Commish on a possible conflict of interests when they won the HFFLUBTotW award. Could the Commish be trying to curse The Eh Team to keep them away from his own team in the standings??? No comment. In any case it certainly didn't work as The Eh Team throttled an auto-piloted Vandalay squad with 134 points. That's win #7 in a row for Eric's team! Could the PL trophy be heading north of the border this year? And the Limbs also won, beating Nancy with a Monday night burst. The Limbs have clinched a playoff spot! Sitting atop the league, it's still Quantum Phonics, whose 104-69 win the the final War of the Christophers won him bragging rights over Wachter and Thompson with a 2-1 WotC record! Someone break up Herbal Tonic! Sam's team crushed the Dominators this week to go to 5-7! Randy Ableman got a narrow victory over Orcwardness when Ron couldn't wring more than 3 points out of Mark Ingram on Monday night. WannaBe wants to be in the playoffs and he beat up deBrewliner to bring his dream closer to reality! Next week will decide the final four playoff teams!
Current PL Standings: 
Now the EL actually has 3 clinchers after week 12! With lots of high scoring games, who still has a playoff shot? Scores: 
Let's look first to the bottom of the stadings, where Jake's team and Isaac's team dueled all weekend before Jake got 37 points on Monday night to eek out a 1 point win! What a thrilling game! InstaGraham thought this week would be a cinch against H-Ike's Daddy, but Bradley was ready to try and play spoiler. Putting up 103 points (his highest total of the season), Bradley tried valiantly to topple the king, but Hyatt was too strong again with 129 points. That's 11 straight wins now for InstaGraham. Sitting in 2nd place is Nudibranch, who took down Sesquipetantic this week. Joining those two among the clinchers are the Gwardians, who beat Chobani to punch their ticket. Ihenachos is still a bit of a split personality. This week they only scored 68 in a big loss to BigHassler. Hassler is now hanging onto a playoff seed for dear life! And Butterslide's 77 points were enough to overcome Russ' 54 this week. Three teams are now 7-5 in the EL and will fight it out next week!
Current EL Standings: 
This week we honor Tom McComas and We are the champions. Tom's season was been a bit wild. In his first auction draft, Tom decided to go ahead and use 63% of his budget on Jamaal Charles and LeSean McCoy. Slow starts for those guys put him on a tough 0-3 start to the season. But since then he's made 40 roster moves and spent his entire FAAB budget retooling his team. Now he's looking strong and gunning for a playoff spot! The excitement of this season is only rivaled by the excitement of Tom's stint as the front man for Queen (the inspiration for his team name, I assume). 
It's the last week of the regular season! Don't let this be the week that you forget to set your lineup! PLUS, it's Thanksgiving week! So you've got THREE Thursday games to keep track of! Bears vs Lions, Eagles vs Cowboys, and Seahawks vs 49er in the nightcap! Be ready! 
I say again, there are only 7 days left in the regular season before the fantasy playoffs begin! Don't slip up when you're this close!
Until Next Week,
Commish Peter