When you desperately need a win, you have to be willing to pull out all the stops. Play to the next level. Do whatever it takes. All the cliches apply. In the NFL, this past weekend was the last chance for many teams to clinch a playoff spot and many other teams were looking to play the spoiler. The level of play was definitely a bit elevated as a result. The Texans have had QB troubles this season, but this week they needed a win and looked to Arian Foster to throw a TD pass. 
In the Giants/Ram game, things were really wild. First of all, the Rams blocked a FG attempt by letting a kangaroo suit up and leap over the line!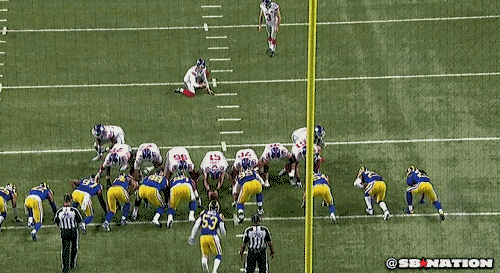 How's that for bush league, mate? The Giants kicker got his revenge though:
And then of course, it was on. 
Like I said, this late in the season things get a lot more heated. 
As for the HFFL, it was Super Bowl Weekend! And not everything went according to plan for many teams! Let's go!
In the LOC, the Super Bowl featured Jim vs Tom in a matchup that looked to favor _diddY. But Tom wasn't about to concede defeat. Scores: 
Championship Bracket
Consolation Bracket
The champions live up to their name! After Sunday, Jim held a lead, but Tom was pinning all his hopes and dreams on mid-season pickup CJ Anderson on Monday night. CJ started slow, but eventually got rolling and pushed Tom ahead and into the promised land! Jim was let down by Andrew Luck (2 points) and underperformed his projection by 47 points. But was it hubris that felled the giant? Jim literally submitted a proposal for his introduction at the awards ceremony on Friday of last week. Hmm… So Tom wins his first ever Super Bowl after starting as the 5th playoff seed! The trophy will pass to him on January at the awards banquet! Jim, meanwhile, loses his 2nd straight LOC Super Bowl. Ouch. He will remain in the LOC and look for revenge next year. Also remaining in the LOC by virtue of his 3rd place game win is Tragically Malicious. Both the Mongrels and Malicious struggled in the game, but Mark came out on top and dropped Luke out of the league. 
In the Toilet Super Bowl, it was a lopsided win for the 'Finches over the Lakehouse Vikes. Dan's team is staying in the LOC, but he has to be wondering what could have happened if he's managed to get into the playoffs. His playoff scores, including a 1st round bye, were 128, 112 and 115! That's Odell Beckham for ya. 
Final LOC Standings: 
Once again, the owners remaining in the LOC next year will be Tom, Jim, Mark and Dan! Well done!
The PL had some nailbiting drama this week, but it actually wasn't in the Super Bowl game. Who's moving up next year?! Scores: 
Championship Bracket
Consolation Bracket
The PL trophy knows no borders and will pass to Eric and The Eh Team! Eric, all the way from the 6th seed (!!!), soundly defeated Quantum Phonics by 22 in the Super Bowl! Both teams underperformed a bit on the big stage, but Chris' team slid the most. For Eric, Mike Wallace netted a team-high 17 points while Chris' #1 pick Jamaal Charles only managed 4. Jeremy Hill made it a bit more interesting on Monday night for Chris, but Damaryius Thomas put a bow on Eric's season in the end! Let's all remember that Eric's team started the season 0-5!!! What a spectacular turn around! Now we'll have to see if Eric will fly in for the awards ceremony or send an ambassador! Eric and Chris will both be moving to the LOC next year. Tagging along will be 3rd place winner The Phantom Limbs. The Limbs knocked the Dominators out of contention this week and will return to the LOC after a 1 year absence. 
In the PL Toilet Super Bowl, things really got interesting. These were two very evenly matched Toilet Bowl teams!
It was rookies Orcwardness and WannaBe squaring off for the final LOC golden ticket. WannaBe ran up to a big lead, but Orcwardness had multiple Monday night players to make up the difference. It went all the way down to the wire, but Ron pull off a 1 point win in the wee hours last night! So Ron will be ascending next year after a successful rookie campaign in the PL!
Final PL Standings: 
The PL owners who won their way out this year are Eric, Chris A., Peter and Ron!
And what of the EL? Could InstaGraham complete the season of destiny? Or would rookie upstart Butterslide manage to upset the king? Scores: 
Championship Bracket
Consolation Bracket
In the end, InstaGraham was too much of a force to be reckoned with. Hyatt's squad defeated Joel and won it all! It wasn't Jimmy Graham who won this game for him, but Tony Romo and his stellar performance that ran up the score. Butterslide was a victim of Jamaal Charles' lackluster week and only got 7 points from Stafford in the QB spot. It all added up to the conclusion to the EL season that almost everyone predicted a month ago. Hyatt wins his 2nd HFFL Super Bowl after winning the PL Super Bowl in 2011! Can he handle the LOC next year? We'll see. Joining him there next season will be rookie Joel along with BigHassler! Bret won the 3rd place game over Nudibranch in a scary-close game! Jon had everything riding on Monday night with AJ Green, Julius Thomas and Emanuel Sanders, but it was all for naught. Hassler took the game and the golden ticket to the LOC!
In the Toilet Super Bowl, everyone was wondering if whatsyoname could complete an epic run and win the final LOC ticket! Isaac came close, but Jake was determined and got the W and the ticket! Jake was the lucky EL owner who snatched up Odell Beckham and his 26 points won the week for him. I'm guessing Beckham will be on many people's wish list come draft time next year!
Final EL Standings: 
So the EL owners moving up next year will be Hyatt, Joel, Bret and Jake! Huzzah!
​As is tradition, we honor the 3 Super Bowl winners! Congrats to Tom, Eric and Hyatt on their successful seasons! 
As a reminder, here are the teams who have won LOC membership next year: 
Tom
Jim
Mark
Dan
Eric
Chris A. 
Peter
Ron
Hyatt
Joel
Bret
Jake
The rest of the returning teams and any new participants will be shuffled into the lower 2 leagues! 
If you're a little obsessive and care about league history, check out the history page on 
HiawathaFantasyFootball.com
 later today for updated all-time power rankings and more. 
Thanks for another GREAT season in the HFFL! Don't forget to mark your calendars now for Friday, July 30th, when we'll devote a portion of the Men's Video Game Night and Chili Cook-Off to a goofy awards ceremony to cap the year! 
Once again, thanks for a fun year! 
Until Next Year, 
Commish Peter