EDITOR'S NOTE: Yahoo is experiencing technical issues that caused some stats and wins/losses to not be calculated correctly. A fix is coming, but the scores reflected below will be incorrect in some cases.
In some ways, Sunday in the NFL felt like a series of trailers before the main event of Monday night – the big tilt between the Rams and Chiefs. And that game certainly lived up to the hype and swung MANY FFL matchups. But Sunday had the Saints, who might be the actual best team in the NFL right now. They lay a whopping on the defending champs, running up the score late like on this 4th and 7 play:
The Panthers scored a very late TD to bring it to 19-20 against the Lions. And they opted to forego the tie and try for a 2pt conversion and the win! Well…
Julio Jones owners had to wait a long time for TD this season, but Jones now has one in 3 straight games. And maybe he should just play every position on the field?!?
With Flacco banged up, the Ravens turned to rookie QB Lamar Jackson who proceeded to run all over the place!
The Ravens won the game with this Lamar-heavy game plan and opened the door to a QB change. Flacco's reaction?
But let's turn to the HFFL, where some really wild stuff happened this week!
The LOC had a big upset this week and another playoff team punched their ticket. Scores:
HEADLINE: Worst vs First
Guy Grenouille and Nancy's Nana lit it up this week in an entertaining game. And in the end, it was 12th place Tyler BEATING 1st place Dan! An enormous upset! Tyler got 22.3 pts each from RBs Mark Ingram and Aaron Jones, which helped him overcome the huge game from Drew Brees. This win leaps Tyler from 12th up to 9th!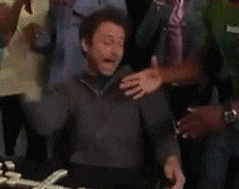 HEADLINE: Monday Night Mayhem
The LOC chat room in the Yahoo app caught fire on Monday night as Ron and Andrew were locked in a back and forth duel. Ron had Roberts Woods and Greg Z for the Rams while Andrew had Travis Kelce for the Chiefs. When the wild game finally came to a conclusion, it was Andrew snatching the win and a playoff spot! And Ron was shattered.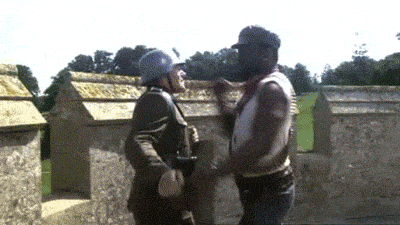 Current LOC Standings:
In the PL, we now have 3 playoff teams, but their order will be debatable the rest of the year! Scores:
HEADLINE: Mr. Marbles is not Nancy's Nana
Marbles put up an admirable fight this week against top team Snappy Mcgee. In the end, he couldn't capture that Nancy Mojo and pull off the upset. Still, it's a good showing for a team that needed to see something positive to happen. You never know, maybe Marbles can run the table in the Toilet Bowl bracket!
HEADLINE: Mid-Tier Rising
It was a good week for teams in the middle of the PL standings. Hugginkiss put up 121.2 in victory over Eh Team. Wide Left got a solid victory over Layne Ducks. And DITKA is taking a page out of the Bears playbook this season and moving up the rankings. With only 3 playoff spots unclaimed as of today, it will be very interesting to see these guys battle for them!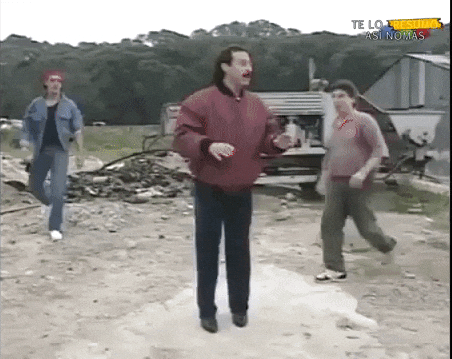 Current PL Standings:
And finally the EL, where some very close calls resulted in some shuffling in the standings. Scores:
HEADLINE: Go Ahead and Call it a Comeback
Caleb's squad lived up to their moniker this week as they stormed back on Monday night against top team The Minor Prophets. That's what Tyreek Hill can do for you! Caleb is now 8-1 in his last 9 games – one of the hottest streaks of the season in the HFFL! Amazing! And it was probably time to make a note of it.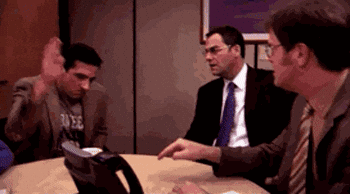 HEADLINE: Living Good in the Hood?
Not really. Mr Rodger's Hood played Liams Dream Team this week and had some high hopes of getting his 3rd win. Sadly, it was not to be. Liam's low score of 77.32 was still enough to get past Rodgers. Johan's rookie season is turning into a nightmare. Still, there's always hope in the Toilet Bowl!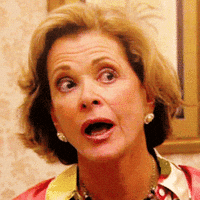 Current EL Standings:
When last place beats first place, you gotta take notice! And when the opportunity to dig up this old pic is presented , you gotta take it! Nana Nancy beat Guy this week, a HUGE upset in the LOC!! Great work, Tyler!
Somehow, some way, it's THANKSGIVING WEEK ALREADY. Don't be one of those owners who forgets to check his lineup before Thursday this week! There are SIX TEAMS taking part in the holiday games: Bears vs. Lions, Redskins vs. Cowboys and Falcons vs. Saints in the night cap. Be ready!
Oh and also the Chiefs and Rams are going to take this week off after all scoring all those points on Monday.
Only three games left, gentlemen! This is no time to let things lapse! It's time to dig deep and find your perfect lineups! It's time to throw waiver dollars at something called Gus Edwards?!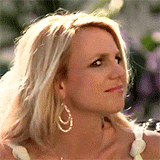 Until Next Week,
Commish Peter